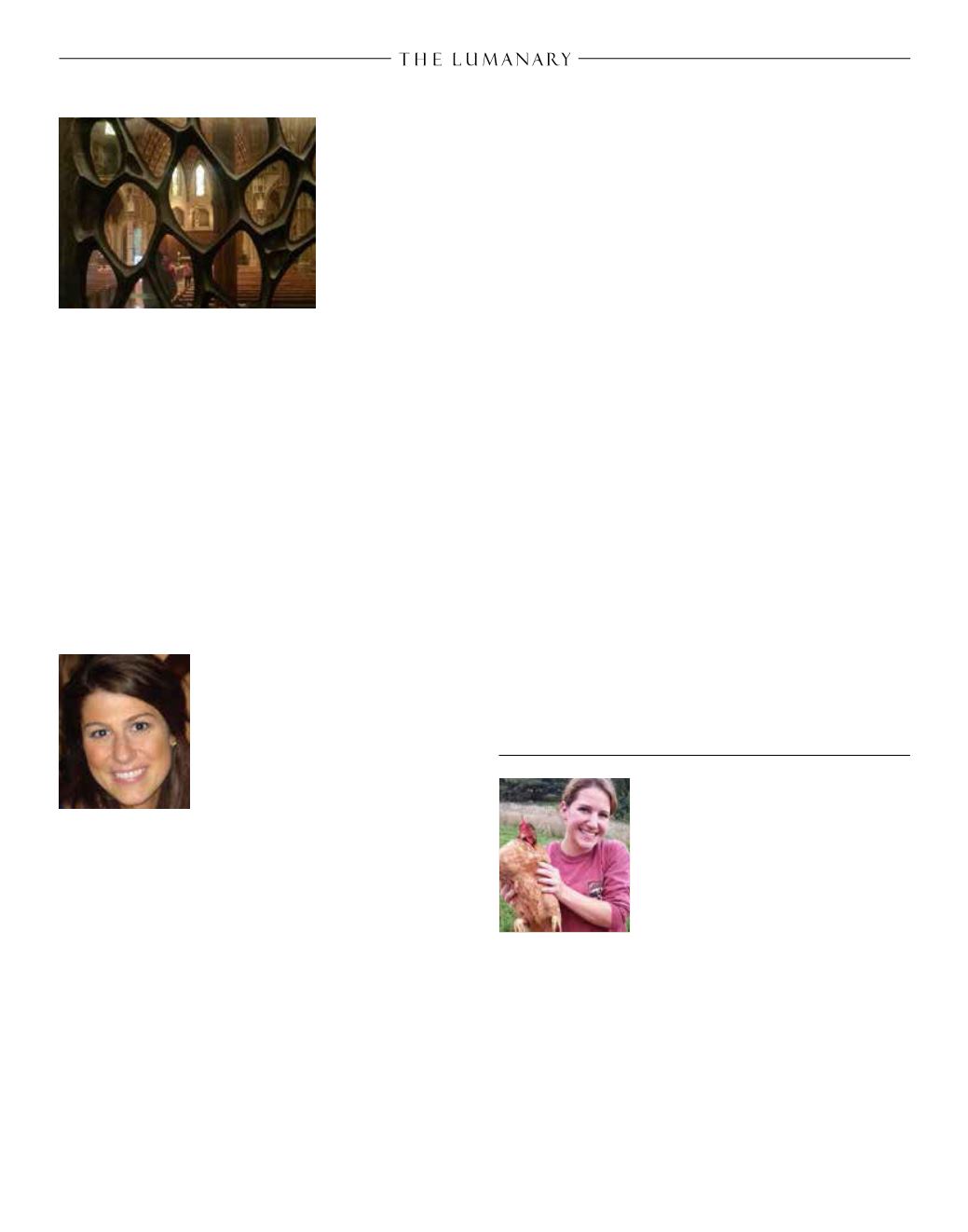 Lisa Caputo
in Elmwood Park and Glenview. She
is proud of her Italian heritage, and
has fond memories of her immigrant
grandparents. Lisa enrolled at Loyola's
School of Education in 1999, and spent a
summer at the Rome Center, where her
true interest in art began. She graduated
with a degree in elementary education, and worked in
classrooms in Highland Park, Northbrook, and Park Ridge. In
2005, she landed her first full-time teaching job. At Columbia
Explorers—a Chicago Public School on the southwest side,
she taught 2nd and 3rd general education classes, and then
she became a K–8 Special Education teacher. She has returned
to Loyola five times since 2003—to obtain a master's degree,
to get married at Madonna della Strada, to teach at her alma
mater, to live on the Water Tower Campus with her new hubby
when he was in Law School and worked in Residence Life, and
to volunteer as a docent at LUMA. Now Lisa Caputo Love, she
and her husband Tim welcomed a daughter, Viviana Marie,
into their lives, just on March 8. Lisa remains true to Loyola's
social justice mission, and volunteers at Saturday Place, a
program started by former Chicago Bear Rashied Davis and
his wife, Dianna. It is an enrichment program for 3rd- and
LUMA STARS
DELIGHTS AND OBSESSIONS
by Mary Arhondonis, Special Events
This winter, allow me to guide you through a perfect Saturday afternoon. Begin with
a seasonal visit to LUMA's winsome
Art and Faith of the Crèche: The James and Emilia
. Then meander through the pedestrian traffic to Holy Name Cathedral
for a self-guided tour of this forward-thinking spiritual sanctuary. Last rebuilt in 1875,
the Victorian Gothic style structure houses parabolic art, designed to create a sense of
elation and the supernatural. As you enter, you will see the bronze screen that represents
the Tree of Life, though the repetition of upwardly flowing cutouts reminds one of fishes
and loaves. The tone set here, repeated throughout the cathedral, is of openness of thought
and spirit. The altar is a lone slab of Argentinian granite, consecrated and containing relics of saints. Its bronze bas-relief support
illustrates Old Testament sacrificial scenes. Depicted here is Abel with the first sacrificial offering to God, and then Abraham shows
his willingness to offer his own son Isaac as sacrifice. We also see Melchizedek, the first priest to offer the sacrifice of bread and wine.
Above the altar, the interpretation of Christ on the Cross shows Him not hanging from the cross, but rather surrounded by it. There
are no nails—he is stepping away from the cross—the risen Christ in heaven. Let your gaze fall to the right of the altar. The casting of
The Shrine of the Blessed Mother
in bronze was completed early in the career of the now-revered Luca Luchetti. Fittingly, the play of light
sweeps the eye upward, portraying Mary's Assumption into heaven. Like most of Holy Name's art, the modern enables relatability.
Continue in the spirit of lightness, and proceed to Fig & Olive Restaurant (104 E. Oak Street) for an opportune lunch, composed
of unfussy fresh ingredients and Mediterranean staples. Order the fig jam on goat cheese, as the granular against the salty creates a
superb counterbalance. Both the tuna and the beef tartar are refreshing, tossed with the requisite flavored olive oil, lemon, cilantro,
and cooling vegetables. The restaurant's olive trees and fresh potted herbs echo the simple fresh essence of the Mediterranean. This
space is invigorating in its simplicity and clean accents—simply a charm! Now reflect on your enriching afternoon, and exhale.
4th-grade Chicago Public School students who are performing
at least one year below grade level. Because she is returning
to her CPS classroom in the fall, you can catch Lisa's tours on
Laura Kaliski
raised in Boulder, Colorado, and claims
to be "a granola through and through."
She is majoring in environmental
studies with minors in management
and marketing. Thinking aloud on her
post-graduate plans, she half-jokes, "A
job would be nice." Her hobbies include
anything done outdoors, particularly fly fishing, rock climbing,
biking, swimming, and eating ice cream. Laura has worked at
LUMA for the past two summers, first as a gallery manger and
then as both an administrative and Museum Shop intern. She's
loved getting to know the LUMA staff, gallery managers, and
interns, and cites watching Director Pamela Ambrose fearlessly
kill a bug in the office, while other employees hid with fear, as
one of her favorite experiences. Laura is studying abroad in
Rome for the fall semester, and hopes to travel around Europe
during her free weekends. Enjoy Italy, Laura!