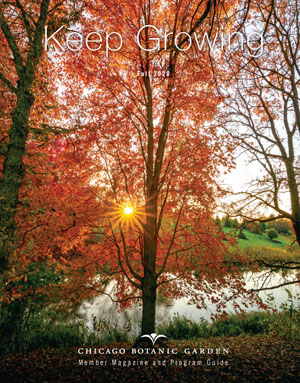 As the primary means of communication between the Chicago Botanic Garden and its members, Keep Growing is a popular resource for information about garden events and activities. Each seasonal issue is filled with stunning photography and articles about the Garden's major events, as well as features highlighting the newest developments in its science, education, urban agriculture, and horticultural therapy programs. The magazine also offers a detailed seasonal calendar of events, programs, and classes.
Keep Growing is mailed directly to more than 50,000 Garden member households each spring, summer, fall, and winter. Copies are also available at the information desk in the Visitor Center at the Garden, and when new members join on site they receive the latest copy. The beautifully rendered issues are often displayed in homes, and are referred to repeatedly as readers relax and enjoy the photographs and articles within every issue.
The fee for your ad offsets production costs for Keep Growing and therefore supports the Chicago Botanic Garden; your ad will appeal to the many members who prefer doing business with companies that support the Garden.
Fall 2014 Ad Deadlines
Space: July 21
Non-camera Ready Ads: July 28
Camera Ready Ads: Aug. 4
Publication Date: Aug. 25
Chicago Botanic Garden Member's Magazine Guide Media Kit