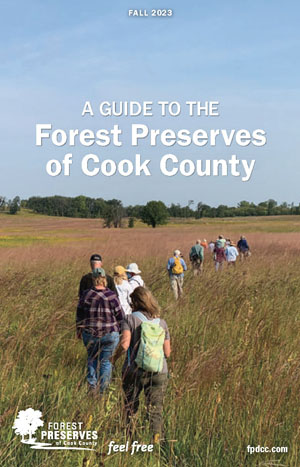 With more than 69,000 acres the Forest Preserves of Cook County is the largest forest preserve district in the U.S. Created in 1914 it was also the first forest preserve in the nation, with a mission:
"to acquire, restore and manage lands for the purpose of protecting and preserving public open space with its natural wonders, significant prairies, forests, wetlands, rivers, streams, and other landscapes with all of its associated wildlife, in a natural state for the education, pleasure and recreation of the public now and in the future."
The Forest Preserves of Cook County has over 40 million visitors each year. Quarterly the FPCC distributes their activity brochures at over 300 locations throughout Cook County.
Your ad in the FPCC quarterly activity brochure offers your business the opportunity to reach this vast audience and remain in the readers hands and referred back to over the upcoming months.
The FPCC serves those interested in the great outdoors and offers activities and adventures for everyone from tots to seniors. Enjoy:
Oak woodlands and savannas
Tallgrass prairies
Native wetlands
Migratory fly-ways that afford spectacular birding
22 dedicated nature preserves
40 managed lakes and ponds
7 major waterways that can be canoed or kayaked and offer glimpses of waterflow and shorebirds
300 miles of marked trails for hiking, biking, horseback riding, and cross country skiing
Scenic spots for painting, photography or quiet reflection
Forest Preserves of Cook County Media Kit